Sanskrit name
Eka Pada Rajakapotasana
How to do pigeon pose
Start in Dowanward facing dog. Balance your body weight on the left leg. Inhale and lift up the right leg up to the sky.
Exhale and bend your knee towards your chest, lowering down your hips.
Place your knee on the mat between your hands, closer to the right wrist. Your ankle rests towards the side, in front of your left hip. The closer your bring your right shinbone parallel to the shortside of the map, the stronger is the hip opener. Your left leg also comes down on the mat, straightening out backwards. Toes are pointing backwards as well and the footsole faces towards the ceiling. Make sure not to turn your resting leg outwards. It should rest right behind your body.
Try to plant your glutes on the ground, keeping your hip aligned.
Now walk slowly back with your hands, placing them next to your glutes. Elbows are pointing backwards, shoulders come together to open your chest.
Look in front, relax shoulders and neck.
Inhale and lift up from your waist lengthening your upper body. Keep moving the shoulders away from the ears. Exhale and raise your gaze towards the sky, bending your neck.
Feel the stability of a pigeon showing proudly its chest.
Stay for a few breath in the pose.
Variations: Sleeping Pigeon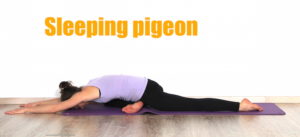 To go further into sleeping swan: Inhale and come on your fingertips, lengthening your torso.
On an exhale walk with your hands to the front, lowering your upper body to the floor. Rest on your head, straightening out your arms over your head. Feel the quality of surrender. Breath in to the pose and release with every exhalation. Let go of resistance.
To get out, come back into your fours. Inhale and walk back with your hands, lifting up your torso. Tuck your toes under and lift your left knee from the floor. Bring your right leg next to it and shift yourself back in child pose.
Repeat the pose on the other side, starting in Downward facing dog again.
Special focus on
Soften the pose as you bring the foot of your front bended leg (here the right) under your (right) hip.
Hips and buttocks: If you can't place your glutes on the floor. Bring them even with a block or folded blanket under your front-leg hip. Pay attention to keep your hip aligned.
Knee: If your knee hurts, bring your ankle closer to your hip.
Benefits
Opens your hips
increases core strength
Stretches the thighs, psoas and groins
Calms your mind and practices the quality of letting go
Contraindications
knee injuries